Lloyd Walsh was born in Oswego, New York on January 2, 1922. Date sound familiar? That's the year that J and M Music Store on Bank Place in downtown Utica was granted approval to operate an Amplitude Modulation Radio Station, WSL on Bank Place. Later, Lloyd Walsh was to set an enviable record for himself in Utica, New York. His mother was from Newport News, Virginia, happened to visit cousins in Fulton New York which is adjacent to Oswego and as Fate would have it, she met Fred Walsh of Oswego, they fell in love and later gave Lloyd and his sister to the world. Lloyd attended elementary and secondary schools and enrolled in Oswego Teacher's College (as it was known then) and where he met his future wife, June Wood, who happened to be from Utica New York. Lloyd says his defining career moment occurred while at a Cornell football game in 1938, a game which was being described by Ted Husing, a legendary network sports announcer; As he looked up to the radio broadcasting booth, he decided that play-by-play broadcasting would become his career. At a later year, Lloyd would broadcast from that same booth.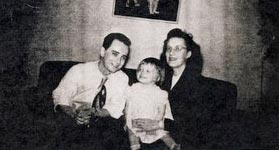 l to r: Lloyd, his daughter Kathy at one year, and Lloyd's beloved wife, June.
Lloyd and June dated off and on while at Oswego Teacher's College and then came World War II. Lloyd received his Greetings from President Franklin Roosevelt and reported for duty. June would correspond with Lloyd every day while he was away. While in the Army, Lloyd was assigned to serve proudly with General George Patton in the Third Army Division. He recalls saluting the General and having his salute returned by him. Lloyd served with distinction in France and involved in heavy combat especially during the Battle of the Bulge for which his service was officially recognized. Lloyd is hesitant about speaking of those times as with other GI's who distinguished themselves, but are reticent to speak about it. They are the young American soldiers who went on to become our country's greatest generation.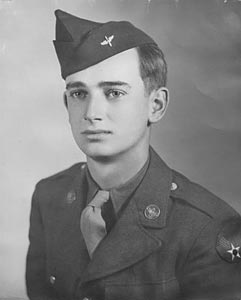 Lloyd Walsh who's motto has been: "Others first — self last". A Great American.
After the war, he came back to the shores of Lake Ontario and he and June became an item. But he didn't return to Oswego Teacher's college. June did graduate and became a teacher but Lloyd enrolled in the Radio Department of Syracuse University through the GI Bill. He met many other young men who were seeking radio careers and would "network" with one another in hopes of obtaining a job in Radio Broadcasting. So, the government paid for Lloyd's college education and off he went to work at his first radio job, an FM radio station in Hornell, New York. While working at Hornell, Lloyd heard from a classmate of the Radio School at Syracuse, Rawley Fowler, who informed Lloyd that he was working at new AM radio station in Utica, New York, WGAT. Would Lloyd like a radio broadcasting job in Utica. So from Hornell NY, Lloyd and his bride traveled to Utica (June's home town) for Lloyd's second radio job.
In Utica, Lloyd started his career as a radio time salesperson and also did play-by-play broadcasts to start his career dream. WGAT, 1100 on the AM dial, was then located in the Kempf Building in downtown Utica, near the Utica YMCA. The station was owned by Eric Williams and he was assisted by his wife Cornelia, who did the bookkeeping . An investor of the station at that time was John Tector, owner of Tector's Shoe Store in downtown Utica, adjacent to England and McCaffrey Drug located in the Gardener Building (now part of the Radisson Hotel property). Also, at the same time, the Williams family opened the WGAT Drive In Theater on Truck Route 5 A (now Commercial Drive). The site is the location of Hannaford Market. The land was purchased by the Tehan family to relocate their business, Tehan's Wholesale to that location (in front of Hannaford's). Tehan's does not have an outlet at that location but continue as the owners of that tract of land.
Because of his success at WGAT, Lloyd was approached by Dick Clark Sr, manager of WRUN AM and FM. Mr. Clark shared Lloyd's idea of broadcasting live play-by-play high school and local college sports. They were of the mind that such features would enhance the reputation of the radio station and also would produce more revenue for the station(s). And so it happened. Not, however, without Mr. Clark first clearing the new hire with Nick Stemmler who was then the Sports Director. But Nick Stemmler was promoted to program director so his efforts at Sports were limited because of that. Nick graciously welcomed Lloyd on board. So Lloyd departed WGAT (now WTLB) and walked a couple of hundred feet south to the studios and offices of WRUN which were located then at 258 Genesee Street (old Niagara Mohawk Building).
It should be referenced here that the WRUN studios were moved from 258 Genesee Street in downtown Utica to a new studio location on Commercial Drive in Yorkville (Town of Whitestown) in 1962. Then the property was sold and it became an animal hospital; WRUN moved its studios to its transmitter site on Thomas Road in Oriskany.
Lloyd has worked with all the celebrities of the 50's and 60's — he did a two man sports show with Nick Stemmler, he worked with Danny Fusco, Carl Swanson (Mr. Sunshine), Dick Cerri, Bruce Rector, Dick Thomas, Alan Cole, Jack Murphy, Dick Clark Jr, Jerry Ashwell, Bernie Roswig and, ahem, Lou Barile. He became the voice of Colgate University Football, and he did the Annual Hall of Fame play-by-play in Cooperstown.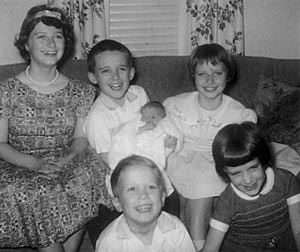 l to r: Kathleen, David holding Jeanne, Nancy, Doug and Susan, the beloved chidlren of the late June and Lloyd Walsh.
As his radio career prospered, Lloyd and his wife, June, welcomed five children (not all at once) into the fold. Daughters Kathleen, Nancy and student entered the teaching field and daughter Jeanne is a reference librarian in Brattleboro, Vermont. Son Doug Walsh is a doctor in Arizona and David is in the investment business. And Lloyd's great Love, his wonderful wife, June passed away in the early 1990's.
Lloyd was eventually promoted to the position of manager of WRUN. While the owners of WRUN, the Rome Daily Sentinel, allowed Lloyd whatever he wanted to do, he did not feel it was proper to tend to the daily chores of being chief executive officer of the station and dong play-by-play. Another person assumed that responsibility and Lloyd to his favorite, play-by-play live broadcasts of local high school football, basketball, the live broadcasts of Colgate Football and other notable events.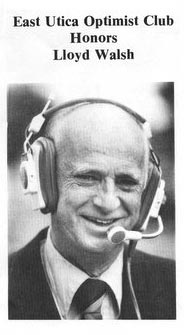 One of the many honors bestowed upon Lloyd Walsh by the East Utica Optimist Club. He was also inducted into the Greater Utica Sports Hall of Fame.
A former Proctor High School Basketball Star, Rocco Giruzzi, remembers Lloyd fondly. Rocco attended and was graduated from the Albany School of Pharmacy and enjoyed a successful career. As fate would have it, Rocco purchased the Emdin's pharmacy on Genesee Street and Lloyd, who lives on Butterfield Ave, became a satisfied customer. The store was located in the King Cole Plaza. Rocco used to poke fun at Lloyd claiming never gave the Proctor Team due recognition. I, too, as a co-worker at WRUN would tease him for I'm a Proctor Grad. But Proctor people then and now hold Lloyd in the highest respect.
Lloyd Walsh is now retired from Life's daily competitions. But he remains a bright, shiny, glowing star in the Utica, New York broadcast history. Well liked, very popular with his co-workers and the young persons who have played local sports, he's everybody's Hall of Fame. There's a vast army of former high school athletes who really like him for all he did for the young people of this area. For those athletes of the local high schools who would want to send best wishes to him, please sign your name and address on the Contact Page and we will forward the information to Mr. Nice Guy, Lloyd. So from the shores of Lake Ontario to the banks of the Erie Canal, Lloyd Walsh is here to stay. If any young person is seeking a role model, Lloyd is a grand choice.