The Number one question in Central New York all these past years has been: "Where in the World is Al Cole"? Al, or Alan Cole, labored in the WRUN salt mines in the early fifties and beyond. As a pre-teen and teenager he had a dream that someday he would be a radio announcer. While attending St Francis de Sales high school, Al took upon himself to visit the WIBX studios in the First National Bank Building (now the Adirondack Bank Building) to submit an application for employment. He thought if he could get any kind of employment at WIBX, even as a "gofer", he could eventually learn to be an announcer but he received a reception a little less than welcoming so he couldn't break the ice.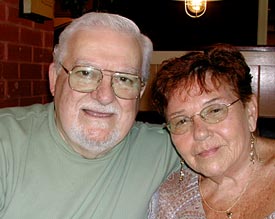 Al and Janet Cole. They will celebrate their 56th Wedding Anniversary this year. Two daughters live nearby in Connecticut; also have two grandchildren, Ryan 27, and Alana 24.
Al Cole graduated from St Francis de Sales High School in June, 1943. Because he was not eligible for the draft until later in the year, he received permission from his parents to enlist in the U.S Marine Corps. He served at several well-known Marine outposts in the USA at the Cherry Point Marine Air Station n North Carolina, at Camp Miramar near San Diego, later assigned to Camp Pendleton in California and then sent to Camp LeJeune, North Carolina where he received his honorable discharge after serving 3 years and 3 days. Upon his return to Utica, New York, Al Cole worked at several jobs, including tending bar at Trinkhaus Manor in Oriskany and then at Sid and Bill's in downtown Utica. It was located on Genesee Street at the beginning of Broad and Genesee Street, near Bagg's Square, (it later became the famous Birdland, operated by Dick Frank). It was at this time Al was matriculated at Utica College of Syracuse University while working at his two bartending jobs. Also at this time. the Rome Daily Sentinel newspaper in Rome applied for and was granted an FCC license to operate WRUN-AM (they already were broadcasting on FM). It was a 5-thousand watt station daytime and 1-thousand a night. Although Utica NY had a second radio station (WGAT), it was a thousand watt station daytime with lower power at night.
The new WRUN facility gave fits to the WIBX people who were fearful the new radio outlet at 5-thousand watts would be attractive to the Columbia Broadcasting System. WIBX was, at this time, a 250-watt operation. WIBX was forced to increase their power and breathed a sigh when the FCC granted them a license to operate on 950 kc at a power of 5-thousand watts day and night. Anyway, Al approached the manager of WRUN, his name was Tommy Martin but the answer was the same. No experience, no job. But as luck would have it, Tommy Martin accepted employment at another radio outlet and was replaced at WRUN by Richard Clark whose wife was the sister of Brad Barnard, publisher of the Rome Sentinel. Al Cole's brother-in-law, Bob King, who worked for the Rome Sentinel, approached Fritz Updike, Executive Editor of the Rome Sentinel about Al. Mr Updike spoke to Dick Clark and Mr Clark had no job available at the moment but if he, Alan, wanted to learn the ropes he would make room for Alan as an unpaid, unscheduled 'gofer'. And so, with a full course load at UC and still working at two bartending jobs, he went to the WRUN studios at every free minute...mostly at night and on week-ends...
Again, with a stroke of good luck, one of his regular customers at Sid and Bill's was Will Morrison, the morning news announcer at WRUN, working from early morning until noon. But he had to return to the studios in the evening to prepare and give the 6 pm news. Morrison told Mr.Clark he couldn't handle the split shift, asked for relief. His request was granted. So Alan Cole was finally put on the payroll at WRUN, worked evening hours on Saturdays and Sundays mornings. By the way, the WRUN studios were located at this time on the second floor of the old Niagara-Mohawk Building on the southwest corner of Genesee and Court Streets. (The studio location changed when WRUN moved, in 1962, to a new studio location on Commercial Drive, Yorkville.) Al first worked with Rallph Allinger who conducted a late night DJ show. Al would handle the news breaks and other announcements. Al recounts of his first, really embarrassing moment. At 11:l5 PM, the schedule would include baseball scores sponsored by Fort Schuyer Beer. The first night, Al was so excited that he introduced "the Fort Schuyler Bowel Scores" which caused Allinger to fall off of his chair with laughter.
Allinger's shift hours changed and Al Cole was paired by a young talent by the name of Dick Clark, son of the station's manager. It was because of this business arrangement that Dick Clark and Alan Cole became near, dear friends. They planned their wedding days on the same date -- June 27, 1952 -- Dick Clark married Barbara Mallory, a young female person he had met while attending Syracuse University and Al Cole married Janet Cruikshank from Herkimer, a young female person he met n Utica. Dick Clark was hired at WKTV but it was obvious that he was destined for greener pastures. He accepted a job at WFIL in Philadelphia, PA on radio who also were owners of WFIL-TV where that station was airing a popular local show, "American Bandstand". You know the rest of the story.
Then he was re-paired with Ralph Allinger at WRUN. Many people are surprised to hear Ralph Allinger was an employee of WRUN because of his long time service with WIBX but Ralplh came to Utica for a job at WRUN. They aired a program during the evening hours called "Candlelight and Silver", very pleasant music with commercials. One of the sponsors was Chanatry's Supermarket. They had a tag line that said, "Take a tip Ladies, Shop Chanatry's and Save". Well, wouldn't you know it. Although he had rehearsed the line, Al ended saying "Take a Sh-- Ladies, Shop Chanatry's and Save" Al Cole was so embarrassed that he was positive his slip of the tongue was a career ender. Later, while Mr and Mrs Cole were visiting the Clark family in Maibu, CA, the elder Clark reminded Al of the boo-boo. Mr Clark, the father, told Al that he remembers driving up Oneida Street, listening to the station, that he was laughing so hard he had to pull over to the curb and compose himself. As station employees left WRUN in Utica for other employment venues, Mr Clark promoted Al Cole to the position of news director but continued to be the newscaster of the morning news during the Danny Fusco show. Al has fond memories of working with such well-known celebrities as Ralph Allinger, Jerry Ashwell, Nick Stemmler, Dan Fusco, Will Morrison, Dick Thomas, Dick Cerri, Lloyd Walsh, Jack Murphy, Carl Swanson (Mr Sunshine), La Marchesa di Seravalle, Joe Skiba and Mike Dziedzic and Bruce Rector. ( Hmmm! He doesn't mention Lou Barile.).
One of the most popular radio programs was one started by Al Cole, a telephone call-in talk show. It was featured later in the morning and, of course, had incorporated the famous 7-second delay, just in case. It was the first such program featured in Central New York. One of his most famous guests was a regular caller named Alex Haley. Mr Haley was a resident on the Campus at Hamilton College and spent a lot of time in Rome. It was at this time he was working on his book which was the basis of the very popular TV program, "Roots". The program was called "Let's Talk It Over" and set the standards for such programs in Central New York. But the AM radio scene began a sharp shift in the late 60's and 70's as the various families started to dispose of their radio properties — The Barnard family sold WRUN and WRUN FM; the Bowen family sold WIBX and the Eric Williams had sold WGAT earlier. In 1969, Al left the radio business and was hired by Jim Fotos, owner of the four Mc Donald restaurants in the Utica area. Al accepted the position of vice-president and Marketing Director of the four restaurants which number increased to eight in the local area. In 1973, Jim Fotos decided to pursue other interests but had secured the employment of his four executives in the area. Al had several offers to return to radio in this area but more attractive offers came from advertising agencies handling the Mc Donald's accounts elsewhere. Al decided to join the Kupper/Grant agency which had the Mc Donald's accounts in the state of Connecticut and three Massachusetts counties. In 1974, Al and his family moved to Ellington, CT. Meantime, the agency underwent several mergers and acquisitions the company became HM/Creamer with headquarters in New York. In 1980, he was named Senior Vice-President and General Manager of the Hartford office. In addition to is duties as GM of the office, his principal client responsibility remained Mc Donald's. Al Cole is proud to say that one of the top Mc Donald executives today is a male person who started with Mc Donald's in their North Utica location. He is Tim Fenton, now responsible for Mc Donald's operations in the Far East.
Al says he welcomes correspondence from any of his former work colleagues and other friends in the Utica-Rome area. Al Cole's E-mail address: ALANC58611@AOL.COM. Regular mail can be sent to Al Cole, 2 Crescent Circle, Ellington, CT 06029.