It was my extreme good fortune to have been associated with some grand male persons while in the radio broadcasting. Louis K Bienkowski, Joseph (Joe) Skiba, Joe Trela and Michael (Mike) Dziedzic. All stand-up guys who became dear friends.
I worked at WRUN, Utica, at the same time Michael Dziedzic did his Polish language program on week-ends. At WRUN, his program was heard Saturday evenings at 7:00 PM. Actually, here's a bit of trivia. Louie Bienkowski and Joe Trela always had a person at the control room board to spin discs, watch voice level volumes, etc. Mike Dziedzic did it all himself, as did Joe Skiba. Mike is the person who got me to refer to his home town as "beautiful and clean New York Mills", a habit which remains ingrained to this day.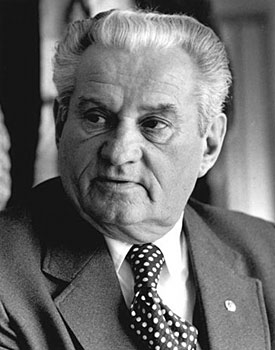 Photo of Michael Dziedzic which was used for publicity purposes.
Mike was intensely proud of his Polish heritage and devoted to our nation. He was part of the marvelous time in our American history which is referred to as "America's greatest generation". He was above-average in intelligence and became a successful entrepreneur when, in 1946, while employed in the private sector, he embarked on a part-time career in radio broadcasting. He obtained advertising from local vendors and he voiced the radio commercials in both Polish and the English language.
He began his radio broadcasting career at WGAT in 1946. It was owned at that time by Eric Williams and his wife, with a silent partner, Ralph Tector, owner of Tector Shoe Store, located next to the Gardner Building, the building which housed the England and Mc Caffrey Drug Store on the first floor. As mentioned earlier on this website, WGAT began its broadcasting in the former White Building at the corner of Bleecker and Charlotte Streets, with Luebbert's Hof Brau on the ground floor and Andy Scala's Cigar Shop located next door. The State of New York Department of Labor and other offices were located on the upper floors of the building. Later, the station was sold to Thomas L. Brown ---and the station's call letters were changed to WTLB. Mike later transferred his Polish Melodies program to WRUN, and then to WBVM. WBVM was owned by the Fusco brothers, Mike and Dan. They sold the radio station to a conglomerate and the call letters were changed to WUTQ. The station was then purchased by Ken Roser of Utica who then sold it to Clear Channels, Inc. and then repurchased it and now broadcasts beautiful music 24/7. During his time on the air, broadcasting his Polish melodies, independent rating services ranked his Polish Melodies as the most listened to Polish radio program in Central New York.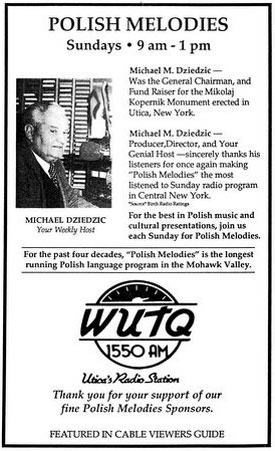 The publicity poster for the Polish Melodies Hour on WUTQ, Utica, New York.
Mike was a true leader. In the 1930's, he was selected to travel to and study in Poland as part of a group of Scouting leaders. He studied at the Jagiellionian Institute at the University of Krakow. Back in the good 'ole USA, he was one of the first to study computer training courses at the Mohawk Valley Technical Institute (MVTI) which led to Mike providing dedicated, loyal service to the UNIVAC Company for over 20 years, a job from which he retired in 1978. Later, Michael became a charter member and then president of the Kopernik Memorial Association of Central New York. As chairperson of the group's Monument Fund, he successfully led a fund raiding drive to pay for the Kopernik Memorial which now graces a plot of land on the southeast corner of Genesee and Eagle Streets in Utica. Originally it was placed on the grounds of the Munson-Williams-Proctor Institute but later it was decided to move the monument to a location to be identified as its own. He also spearheaded a drive to raise funds for perpetual care of the flower beds at the Monument, placed there with a lot of tender, love and care by the members of the Kopernik Memorial Association. He was also involved with the Annual Casimir Pulaski Day Observance in Utica. As part of the celebration was the inclusion of a young female person of Polish Descent who was to be introduced as the Princess of the Pulaski Day Festivities. It was Michael who recommended, and accepted by the committee that the successful contestant was to receive a scholarship stipend as part of the honor.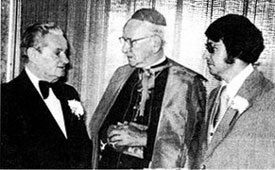 l to r: Michael Dziedzic, Community Award Winner; Archbishop of Philadelphia, National Award winner and Matthew Duek, of the Obbserver-Dispatch, Young Adult Winner. The Awards dinner was held at the Harts Hill, Whitesboro, on April 9, 1978.
In the late 1970's and the early 1980's, Mike was chosen by the officials at Utica College of Syracuse University to serve as a representative of the Polish community on an advisory board which the school had established. The mission of the board was to oversee the establishment of ethnic studies at the college which led to the successful offering of a Polish-American Studies course at Utica College.
On April 9, 1978, Mike was honored, along with John Cardinal Krol and Mr. Matthew Dudek by the Kopernik Memorial Association as a person who had given outstanding service to the Polish-American community.
Mike and his wife had three children. A son, Eugene, distinguished himself as a researcher of local Polish-American history. Eugene's research on the labor strife at the Knitting Mills in New York Mills is a classic.
And, oh, did I mention that Michael was a charter member and Past President of the New York Mills Lions Club of New York Mills.
It was my honor to have worked with this Great American of Polish Descent. I've got, no check that – we all have bragging rights to have known Michael M. Dziedzic, a very near, dear friend.