La Marchesa appeared on the Utica Amplitude Modulation Radio scene in the early 1950's, and she did it with a grand flourish. First we can reveal her given name Iside Minuchi, born in Florence Italy on September 21, 1898, the daughter of the late Marchese and Minuchi Di Servalle. She was raised and educated in Italy through tutors associated with St. Maria Madalena College, earning a degree in the language of Italian and Cultural Arts and Voice. At an early age, La Marchesa became involved with the Italian cinema industry. She attained roles in many movie productions, among which was a movie entitled "Sirena".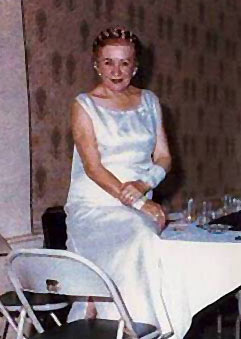 Photo by Peter Antonucci.
La Marchesa di Servalle at the Hotel Utica, downtown Utica.
She toured the US as a soprano with the famous "Florentine Choir" and also had a solo concert tour in Egypt. One of the world's Great Love Stories happened when La Marchesa met and married Nicola "Cappy" Capomacchio. He was raised in the Federal Hill of Providence, Rhode Island, where he was a musician and music conductor. It was my good fortune to meet both "Cappy" and La Marchesa when I gained employed at WRUN, in Utica. At this station, "Cappy" obtained employment as the station's Traffic Director. Let me explain. In a radio station, directing traffic is a job of coordinating all of the radio time sold by the radio salespersons. This would include Danny Fusco, Carl Swanson (Mr Sunshine), Lloyd Walsh and others. It was his responsibility at WRUN to stipulate as to the time and length of the "radio spot or commercial" on a sheet referred to as a Log. The Log was the official record denoting the time and length the commercial was aired on the station; it became the official record of performance for future reference by the Federal Communications Commission. I spent many enjoyable hours at the Capomacchio residence at 848 Bleecker Street. I asked once how the Marchesa and he came to Utica, New York.
"Cappy" told me personally that they had settled in Binghamton, New York when he was informed by the Federal Government that the Marchesa was to be deported to Italy. From what I was able to piece together in conversations with them, La Marchesa had been an ardent follower of Benito Mussolini - she often told me she considered him a good head of state. And as the story continues -- both La Marches and "Cappy" panicked; they sought the help of any kind from the politicians in the Binghamton area. No one in that area could offer assistance in a case of this magnitude until one Binghamton politician suggested they travel to Utica to speak with Rufus Elefante who might offer assistance. Without haste they sought out Mr Elefante in Utica, presented their case to him personally. He told them he would attempt to aid and assist, which he did. Mr Elefante contacted the office of US Senator Herbert Lehman, former governor of the State and now the US Senator from New York. Arrangements were made for La Marchesa and "Cappy" to travel to Washington, D C where Senator Lehman had introduced legislation to grant the right of La Marchesa to remain in the United States. Legislation was passed and approved. After the vote, an aide to Senator Lehman came out to share the good news and asked Cappy, "Who do you know who has so much clout to achieve this, something which was an almost impossible task". The aide was given the name of Rufus P. Elefante.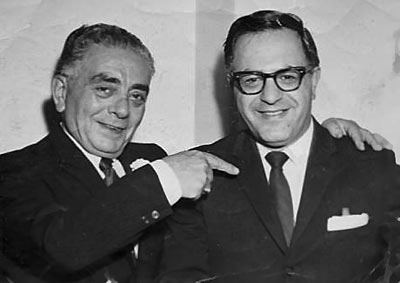 Photo from left to right: Nicola "Cappy" Capomacchio, husband of La Marchesa di Servalle, and Lou Barile. Photo taken at the home of "Cappy" and La Marchesa at their home, 848 Bleecker Street, Utica
Because of their good luck, La Marchesa and Professore Nicola Capomacchio returned to the Utica area where they decided to establish residence. They were fortunate to obtain employment with Radio Station WGAT, 1100 kilocycles, a radio facility owned and operated by Eric Williams. They sold their own radio air time with the Marchesa voicing the radio commercials in Italian and "Cappy" voicing the same commercial in English. Later they were hired by Richard Clark, General Manager of Radio Station WRUN. The Marchesa would either visit or telephone prospective advertisers, obtain the advertisers signature on a contract for which she obtained a commission for the sale of air time (on both WGAT and later at WRUN). Their Italian-American radio program was featured during the day at WGAT and later, at WRUN, was heard at 7:30 PM. "Cappy" would act as control room engineer; the program was featured in the evening while "Cappy" performed his duties as Traffic Manager during the day. These people--my ardent supporters--among others (including my mother) "instigated" me to attempt seeking public office.
My near, dear Friend, Nicola Capomacchio passed away on August 30, 1966; La Marchesa di Servalle passed away on March 5, 1989 at the age of 90 years.