BETTY CUSHING GRIFFIN ALLINGER
Betty Allinger was born in Albany, New York, and moved to Utica, New York when she was nine-months old. Her father was transferred to Utica; he was an auditor with Traveler's Insurance Company.
In her formative years, Betty lived at Johnson Park, Steuben Street and then on Storrs Avenue when the family purchased their first Utica home.
Betty attended Kemble Street School, John F Hughes School and attended Utica Free Academy. Her two favorites at UFA were Ralph Ginther, Speech Teacher and Owen Roberts, teacher of English. It was Owen Roberts who introduced Betty to the grand prose and poetry of William Shakespeare. Betty later enrolled in college courses of Syracuse University when offered as extension courses at Kemble Street School.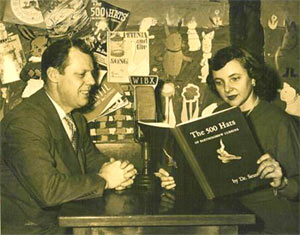 Ralph Allinger and Betty Cushing Griffin
At this time she also started a career in teaching at Our Lady of Lourdes School in South Utica, as an elocution teacher.
Then Betty Cushing Griffin went to Boston and enrolled at the Leland Powers School of Radio and Theater. She completed a three-year course in two years receiving high honors. It was here where Betty learned Radio Writing, especially in adapting stories from the Classics. She wrote several original works; she learned how to be a radio announcer, and how to be a director of plays. The Leland Powers students were part of a shared agreement with Boston stations WHDH and WEEI where the students were given on-the-job training.
After graduation from Leland Powers, she worked in Summer Theater, played the starring role in Eugene O'Neill's "Ah, Wilderness" and was accorded rave reviews. At the same time, Betty worked at station WHDH in Boston where she received a stipend to help pay for expenses.
Upon her family's urging, she returned to Utica where she was able to have an opportunity to broadcast a Women's Fashion Commentator on local station WIBX. Mr. Scott Bowen, the owner of the station, immediately recognized Betty's talent and asked her what would she like most to do at the station. She grasped the opportunity to produce radio programs for children — it was first named " Children's Theater" which evolved as "Youth Presents".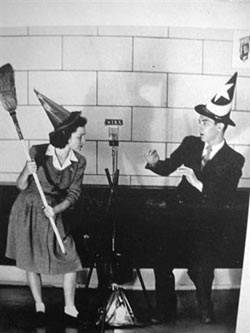 Joan Wallace and John Kirley as the "Witch and Wizard", program produced by Betty.
A new era had dawned in the Mohawk Valley. It was a labor of love for Betty and her children's radio programs would continue for over a quarter of a century. At first, the program featured Utica students but later she extended an invitation for suburban high school students within the WIBX listening area — New Hartford, Oriskany, Holland Patent and Whitesboro. She worked closely and shared ideas with Florence Mc Carthy of Proctor High School and Andrew Burdick, Utica Superintendent of Schools.
She expanded WIBX's children programs by adding to the list "The Witch and the Wizard" which was a remote broadcast heard on Saturday mornings emanating from the UFA auditorium.
By this time, Betty was named Educational Director at the station. She originated, wrote scripts and became involved with the program called "Let's Go to School". It featured segments honoring outstanding teachers in local schools, featured school news and promoted events in local schools for each day of the school week. On Fridays, Betty started a local program which format she had originated in Boston. It was called "We Know a Story", using material first offered in Boston. This program was later added to the schedule of the FM School of the Air. It received national attention. It was also broadcast on the Armed Forces Radio Network to the School age children of military dependents stationed across the globe.
During the War Years, Betty also was pressed into service as a staff radio announcer, operating the control room board, preparing, editing and airing news programs, and took her rightful place as an outstanding radio station celebrity as well as a loyal and dedicated colleague.
In 1955, Betty was married to Ralph Allinger, also an employee at WIBX. From that union arrived Ralph Jr., Michael and Christopher. Michael is a computer expert in Ithaca and Chris has followed in the family tradition and has become a valuable employee of a radio station group in Ithaca. In fact, Betty and her son, Chris, do a segment on his radio show.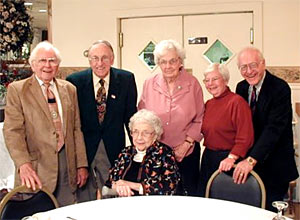 Betty surrounded by friends at her Birthday party.
She is a member of the Board of Directors of the Longview Residential Community; she has been requested to appear and speak at classes at nearby Ithaca College and continues to spread sunshine wherever she goes.
On September 30th 2006 her family and close friends helped Betty celebrate her 90th birthday anniversary. But she has a long way to go. Time for the people of the Greater Utica area to give recognition and appreciation for all her work done in the interests of young people in this area and for the good work she has done for young people wherever she has been.
In Memoriam.......March 27, 2010