NICK STEMMLER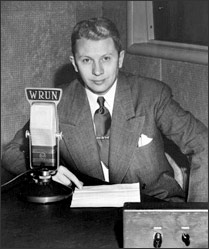 Nick Stemmler, WRUN Utica radio celebrity, behind the WRUN mic in the early fifties.
Nick Stemmler's was a big name in AM radio sports at WSYR, Syracuse, his home town. He was born Edward Nicholas Stemmler in Syracuse in 1910. He got his first radio job just out of high school at WSYR. As Nick Stemmler, he became Syracuse's crack sports reporter at WSYR. In 1930, he accepted a position with WBEN in Buffalo, New York but was to return to WSYR as director of Sports in 1932.
In 1942, Nick went to St. Louis, at Station KWK where, with Dizzy Dean, broadcast the home games of the St Louis Cardinals and the St Louis Browns. Wow! St Louis then had two major league baseball teams.
Nick kept returning to Central New York and for five years was the play-by-play sportscaster of the Syracuse Chiefs Baseball team of the International League. He also became involved in the broadcast of Syracuse Ice Hockey games. No doubt about it, Nick was the best known sports broadcaster in Central New York, a reputation richly deserved. Wherever a sports event, Nick Stemmler was there, microphone in hand -- for baseball, hockey, golf or football.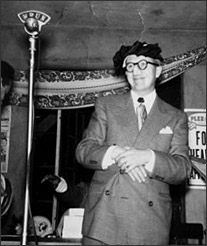 Nick Stemmler cavorting during a WRUN broadcast.
After WWII, the Rome Daily Sentinel in Rome, New York, petitioned the Federal Communications Commission for permission to operate a Frequency Modulation (FM) station with studios located in the Copper City. The executives also had plans to enter the field of Amplitude Modulation (AM) radio and received permission to operate on 1150 kilocycles with an effective power output of five-thousand watts (5000) daytime but to reduce power to one-thousand watts (1000) at sundown. They wanted to have an assignment for the Utica-Rome area. This decision caused great consternation in the corridors of WIBX, Utica. The owners of that station, at that time broadcasting on 1230 kc.
On 250 watts of power, WIBX was fearful that the increased power output at WRUN was a threat to retaining the Columbia Broadcasting System on 1230 kc. WIBX found a frequency on 950 kilocycles for five-thousand watts day and night. A sigh of relief was heard throughout the Mohawk Valley for WIBX, Inc. was allowed to retain the Columbia Broadcasting System which, at that time, was the Number One Radio Broadcasting Network.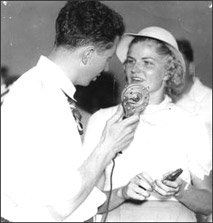 Nick Stemmler interviewing "The Babe", the most famous female athlete of all time.
By the way, sharing some information. The executives of the Rome Daily Newspaper decided on the call letters WRUN, for RUN was short for Rome-Utica News. Tommy Martin accepted the position of General Manager; he was employed in AM Radio in Watertown, New York. One of Mr Martin's first hiring's was that of Nick Stemmler to be the station's sportscaster. The AM radio studios were located in the Niagara-Mohawk Office (gas and electric building) at 258 Geneseee Street, corner of Court. The studios and officers were situated on the second floor of that building.
At the time, Utica, New York was fortunate to have a baseball team Eastern League. Nick Stemmler, as he had done in Syracuse and St. Louis, broadcast live baseball of the Utica Blue Sox. There were many broadcasts of the Sox's games on WRUN-FM. Nick's live broadcasts on FM (Frequency Modulation) caused me to purchase a radio set which had AM-FM compatible frequencies. I was a huge Blue Sox baseball fan and the folks of the Mohawk Valley fully appreciated the excellent job performed by Nick Stemmler in sharing with his listeners the joys of a Blue Sox victory. The members of the Utica Blue Sox, a farma team of the Philadelphia Phillies later became members of the "Whiz Kids" of the 1950 Phillies and played against the New York Yankees in the World Series. Nick was good friends with all the sports celebrities in the area.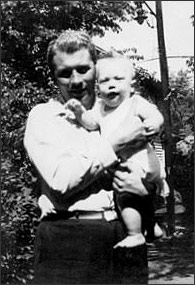 Nick Stemmler holding his son, Ralph, in the backyard at his Utica residence.
Replacing Tommy Martin as manager of WRUN was Richard Clark, the father of Dick Clark, the famous TV Deejay, Movie producer and Network Celebrity. Richard Clark promoted Nick Stemmler to the post of Program Director. Talk about coincidences -- it was because of this promotion, Lloyd Walsh, who was working for Station WTLB (then called WGAT) became a time sales person for WRUN and Mr Clark recommended Lloyd speak to Nick Stemmler to receive Nick's permission to broadcast sports events on WRUN, which permission was granted.
Your editor, at the time, was employed at a Rome, New York AM station. It was my good fortune to meet Nick Stemmler. He was a gentleman of the first class. I found Nick to be a person of infectious enthusiasm and genuine friendliness. He was a credit to Radio Broadcasting.
In later years, Nick Stemmler accepted a position with the Tampa Florida City Recreation Department. He and his wife did marvelous work. They took good care of 57 playgrounds, 17 community centers, 9 swimming pools, 27 tennis courts ad a large beach complex.
At 63 years of age, Nick Stemmler suffered a massive stroke. Nick Stemmler was introduced to the Florida climate when he traveled south for the Spring Training baseball games. "Never did get the sand out of my shoes", he told his friends. When Nick arrived at the Great Baseball Park in the Sky, the Good Lord proclaimed Nick Stemmler to be "Safe At Home".